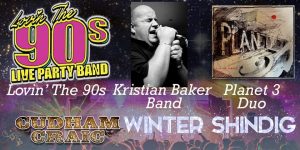 This year we're headlining The Cudham Craic Winter Shindig. Very excited to be part of a fantastic event!
Tickets and info here
https://www.facebook.com/events/2680662488669142/
A Cudham Craic Winter Shindig!
Sat 23 Nov
The Blacksmith's Arms Garden
3 x AMAZING live bands in our heated marquee from 6pm
After the success of last year's Christmas shindig, we're once again turning the Blacksmith's garden into Cudham's most famous live music venue!
Earlier: The Bricklayers Arms, Beckenham, Saturday 1st February 2020
|